The Bellows Accordion Menu
A svelte, robust, and intelligent accordion menu plugin for WordPress.
Display your hierarchical content in style A highly flexible, customizable, and full-featured accordion menu
Get your menu built quickly and drop it into your layout via shortcode, widget, or PHP.
The menu is responsive and will automatically size to the width of its container.
Choose whether a single submenu or multiple submenus can display at once.
Create multiple configurations to tweak each of your accordion menu's settings to your liking.
Advanced Content
Add advanced content to individual menu items within your menu:
Icons from Font Awesome
Images - upload a custom image, or inherit the post's featured image
Widgets - create widget areas within the menu to add your widgets
Custom content - add any text, HTML, or shortcode to the menu via custom content

Note that these settings apply to menus managed in Appearance > Menus, not auto-populated menus
Take full control with the Customizer
Control and preview your Bellows settings via the Customizer
Create your own custom skins
Customize:

toggle icons
text and background colors
padding
fonts
and more!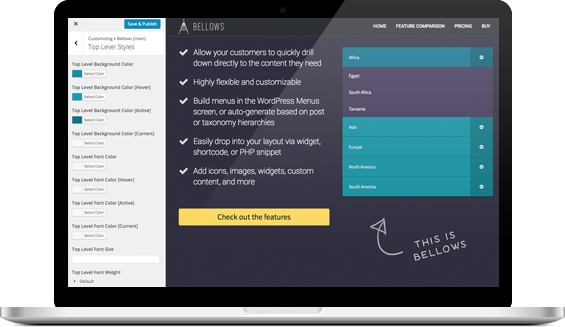 Autopopulation
Generate your menus automatically based on taxonomy or post hierarchies
Works with custom post types and taxonomies
Ability to inherit hierarchy based on the current page or taxonomy allows you to create one menu that will dynamically change contents based on the current page.

Note that individual menu item settings such as icons, images, etc, are not applicable with auto-populated menus
Construct and preview your menu with the Menu Generator
Test menus and configurations in the admin panel
Fine tune auto-population queries
Save and re-use query configurations
Generates shortcodes or PHP based on your settings
Automatically-refreshed menu preview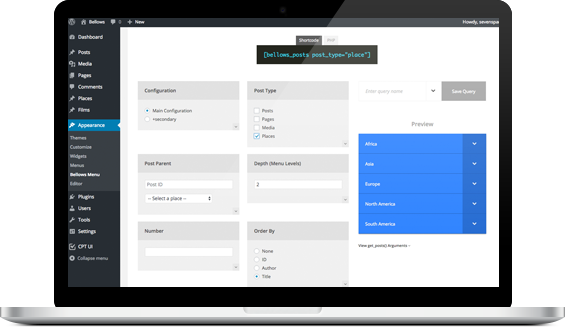 Built on the WordPress Menu System
Bellows is written using the WordPress Menu System, so you can manage your menus via the Appearance > Menus interface, and use all the standard WordPress menu features.
Individual Menu Item Customizations
Change the colors, font size, and padding of individual items within the menu for complete styling control.  (Not applicable for auto-populated menus)
Too much content to show at once?
Bellows includes "Show More" functionality, so you can cut off your submenu item list at a point of your choosing, allowing your users to expand more content at their leisure.
Ready for an awesome accordion menu experience?
Grab your copy of Bellows today